RESEARCH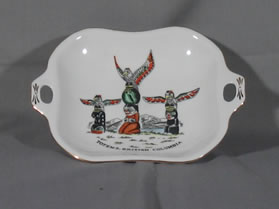 Ellen Neel, Totem Ware, c. 1950
Courtesy University of Victoria Art Collections
U005.25.5




I am an art historian who specializes in modern and contemporary arts of the Pacific Northwest. My art historical program of research draws from various data pools and engages with a range of interdisciplinary methodologies, including visual analysis, archival research, oral history, and the experiences of image or object creation and re-creation. I am the first occupant of the Williams Legacy Chair. The Williams research brief carries three major agendas: research with First Nations people and communities, research on and about the University of Victoria's Williams Collection, and community engagement in practices of curating.
Key Areas
Art, images, and objects; in relation to experiences of mobility, regionalism, national law, and the politicization of family identity.
Curatorial practices and the impact of exhibitions.
Collaborative and community-based processes and the epistemology of art history.
The use of creative and documentary methods in collections and image research, including curating, object creation, and recorded oral histories.
Narrative
Motivated by the regionalist focus of the Williams Legacy Chair's brief, I have examined how the idea of the Pacific Northwest shapes identity inside and outside the conventional geographic boundaries of the region. I am especially interested in how vernacular arts (photographs, architecture, carving, and textiles) shape and politicize family identity in relation to the laws of the nation-states of Canada and the United States.
I have made a special study of photographer, painter, and carver David Neel (b. 1960, Kwagiutl). In my essays "Paintings in the Present Tense" and "David Neel: Cosmopolitan and Kwagiutl?" I utilize oral histories and visual analysis to explore Neel's experiences of mobility and to frame his photographic practice as a means of moving towards people in the Pacific Northwest and around the world.  A third essay, "Renegotiating Identity: 'Primitivism in 20th Century Art' as Family Narrative," examines the importance of family photographs and museum collections for renewing Neel's connections with Kwagiutl family members from whom he was separated as he grew up in Alberta. This essay also probes the unexpected importance of Modernist interpretations of First Nations art to Neel's self-understanding, especially New York's Museum of Modern Art presentation of Surrealist interest in Indigenous arts of the Pacific Northwest found in the 1984 exhibition "Primitivism in the 20th Century". I am currently working on a book-length manuscript about Neel's art in relationship to his negotiations of identity as he moves around the world.
Further writing on the intersections between Modernism and Indigenous art is found in my book reviews of both Jennifer Kramer's Kesu': The Art and Life of Doug Cranmer, and Dawn Ades, ed., The Colour of My Dreams: The Surrealist Revolution in Art exhibition catalogues, as well as in an encyclopedia entry about "Surrealism and Dance". An essay on Max Ernst's collections of Indigenous objects is in progress.
My research focuses on issues of family identity and looks back to the nineteenth century as well. Inspired by the representation of polygamous women during the 2011 trials of members of the Fundamentalist Church of Jesus Christ of Latter-Day Saints Bountiful, British Columbia community, my 2013 essay "Building Autonomy: A History of the Fifteenth Ward Hall of the Mormon Women's Relief Society" examines the introduction of vernacular architecture in conjunction with the rise of a pro-polygamous suffragist movement led by Mormon women during the late nineteenth century. The Mormon Diaspora, greatly affected by the subsequent extension of railroads through to the Pacific Northwest, also came to have its influence on Neel through his grandfather, Ted Neel, who participated in that changing culture. An essay in progress that is tentatively titled "Ellen Neel and the Camera" examines David's grandmother Ellen, and her use of photographic images as performative spaces in which she asserts to her family's Kwagiutl identity.
The Williams Legacy Chair also holds responsibility for developing a program of curatorial and community-based research in relation to the University of Victoria's Legacy Gallery and the Michael Williams Collection. Inspired by the research of indigenous curator and scholar Nancy Mithlo (Chiricahua Apache) and Michael Williams' legacy of good works and community-making activities, I have developed a praxis of collaborative curatorial research that involves teams of students and community members who use the curatorial process as a mechanism of relationship building. One major multi-sited project has focused on an installation for Victoria's Cool Aid Community Health Centre that is dedicated to serving people without health coverage, a disproportionate number of whom are Indigenous. Related exhibitions at the Legacy Gallery (Regarding Wealth, Connect the Blocks, and Communities and Nations), and a performance piece that visualized the process of moving artwork from the gallery to the health care facility (Art Procession) probe different aspects of representation, curating, and art in relationship to community identity. The dialogical processes of these curatorial projects have, in turn, prompted me to explain my methodology and examine the long overlooked history of collaborative research and knowledge production within the field of art history, as exemplified by my essay in "Big Art History: Art History as Social Knowledge" forthcoming in the Journal of Canadian Art History.
The dialogical process of community-based research also informs the Williams Oral History Project. I designed the project to collect, activate, and preserve narratives about the University of Victoria's Williams Collection for Victoria and for the Friends of Michael Williams. The project provides training to graduate and undergraduate students in practices for documenting works of art. The narratives are currently being catalogued in a continuously updated online database and collections catalogue. I have also used data from The Williams Oral History Project to frame Creating Con[text], a recent exhibition at the Legacy Gallery that situates painter Angela Grossman's work in relation to the work of earlier generations of British Columbia painters, including Jack Shadbolt and Emily Carr.
I have also created a second collections-based oral history research project concerning another Pacific Northwest artist in our collection, Anglo-Japanese artist Elizabeth Yeend Duer (1889-1951). The University of Victoria has approximately 90 of her paintings in the collection, and through the oral history project I have reconnected works of art in our collection with members of the Duer family and friends in Japan. The Duer project has improved the University of Victoria's Art Collections catalogue entries, serving to train an interdisciplinary team of undergraduate students in the process of documenting and interpreting works of art.
Future Directions
Inspired by a button blanket in the Williams Collection, I am engaged in a collaboration with artist Peter Morin (Tahltan), the University of Victoria's Legacy Gallery, University of Victoria's First Peoples House, Dance Victoria, various elders long involved in the creation of blankets, and my undergraduate art history class. Our objective is to create the world's biggest button blanket, providing a forum in which blanket makers can renew, activate, and transmit their traditional knowledge. The blanket's giant scale is designed to call attention to this under-acknowledged area of Indigenous art making and produce a collaborative forum for students to learn about the art. The blanket, designed by Morin, will be danced by Rebecca Belmore and Peter Morin, exhibited at the University of Victoria's Legacy Gallery, and finally feasted and given away during a feast event at First Peoples House.
As Williams Legacy Chair, I offer funded research positions at graduate and undergraduate levels. Please contact me for further information at: cbpalmer@uvic.ca